Gonsin Conference Equipment Co.,LTD
Name:Gonsin Conference Equipment Co.,LTD.
E-Mail:foreigntrade@gonsin.com
TEL:86 757 2236 0968
Address:10th Floor, Block 2, Jinyuehongtai Building, No.4 Chengye Road , Fengxiang Industrial Park, Shunde, Foshan, Guangdong, 528300, China
GONSIN TC-F06 simultaneous Interpreter Console for Translation System and Conference System
GONSIN TC-F06 simultaneous Interpreter Console for Translation System and Conference System
Price:USD 1,000.00-2,000.00
Minimum order quantity:1
Accept Min order:Yes
Product Description
Type:Audio Conference System
Function:Translation
Simultaneous Interpretation:Yes
Place of Origin:CN
Brand Name:GONSIN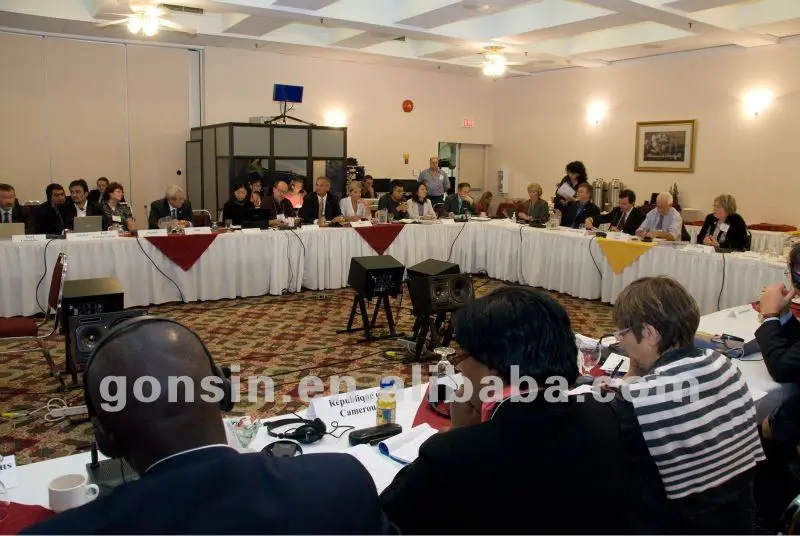 TC-F06  Interpreter Console
GONSIN TC-F06 interpreter console is a digitally-controlled workstation for the 6-channel simultaneous interpretation system. 
Gooseneck microphone and headset microphone can be used 

Built-in loudspeaker with volume level control 

LCD screen for channel information display 

Mini jacks on both sides for headset microphone and recorder 

3 incoming channels can be pre-selected for relay interpretation

Automatic channel interlocking prevents interpreters from using same outgoing channel 

MUTE key to enable a brief muting of the microphone for cough cut 

SLOW key to alert the current speaker to speak slowly 

Loudspeaker is automatically switched off when the microphone is turned on  

Floor audio is automatically switched to the outgoing channel when MIC is off 

Multiple interpreter consoles can be connected in a daisy-chain  
Frequency response: 50-18KHz 

Signal-to-noise ratio: > 90 dB 

Max. Input power level: 7.5V 

Operating voltage: 24V 

Power consumption: 2.5W 

8ohms/2W built-in loudspeaker 

Standard mic stem length: 425mm 

128x64 backlit LCD screen 

DB25 input/output connectors 

3.5mm jacks for mic, headphone, recorder 

ABS base: 247x145x95mm(L*W*H)
     TC-D2  Interpreter Headset
Closed-ear cushions

Adjustable headband

Left ear flexible boom mic

In-line volume control

Connectors: 3.5mm stereo plugs

Impedance: 60Ω±15%

Frequency response: 20Hz to 20KHz

Input power: 30-50mW

Sensitivity: -58±2dB SPL/1mW

Microphone type: Omni-directional dynamic

Microphone sensitivity (1 kHz): -58±2dB

Cord length: 2 metres
     TC-D3  Stereo Headphone
Ergonomic design

Super heavy bass

Frequency response: 20 Hz - 20 kHz

Impedance: 32 ohms ±15%

Sensitivity: 94dB ±3dB

Maximum power input: 30mW

Adjustable headband & soft earcups

40mm drivers for dynamic stereo sound

120cm single entry cord with 3.5mm plug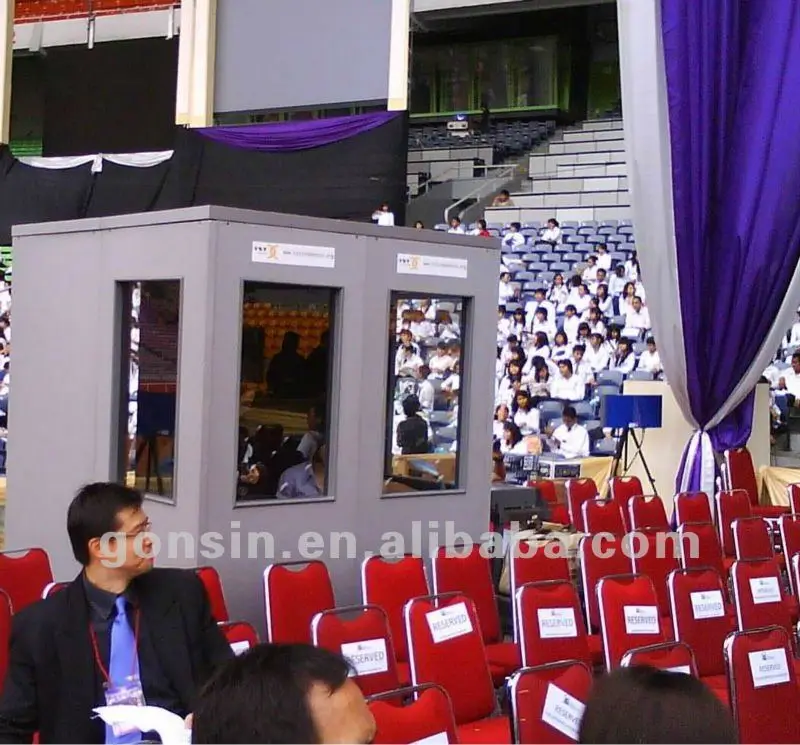 GONSIN is the global provider of complete conference system solutions, including DCS distributed congress system, conference discussion system, interactive voting system, simultaneous interpretation system, attendance registration system, multimedia control system and conference management software.
GONSIN prides itself on its independent innovation strategy and product differentiation strategy ever since its inception, with independent intellectual property rights for its wide range of products. 
GONSIN successfully lauched the DSSS interpretation system, the industry's first multi-channel wireless language distribution system using the state-of-the-art Direct Sequence Spread Spectrum (DSSS) technology. 
Its DSSS wireless interpretation system and wireless voting system were approved to be projects of National Torch Program by the Ministry of Science and Technology of China. 
GONSIN's latest product, DCS distributed congress system, offers fully digital, scalable, versatile and reliable platform-based congress solution which has redefined the conference system, with cutting-edge technologies and greatly enhanced user experience.
GONSIN has received ISO 9001:2008 certification for its quality management system and CE, FCC, CCC certification for its product lines.  GONSIN has already registered its trademarks in more than 60 countries around the world. 
GONSIN has shipped to more than 130 countries, and has completed thousands of important projects worldwide, with diversified portfolio of endusers including governments, parliaments, convention centres, courthouses, military forces, hotels, schools, hospitals, churches and corporations.
GONSIN products have equipped many high-end international conferences such as the United Nations conference on LDCs, UNECSO World Heritage Committee annual session, Organization of American States general assembly, Mercosur Presidential Summit, and World Summit of Legislators. 
GONSIN conference systems have been permanently installed by some national parliaments including State Great Hural of Mongolia, National Assembly of Ecuador, National Congress of Chile, National Assembly of Kenya, Parliament of the Democratic Republic of the Congo, and Congress of New Caledonia. 
After nine years of rapid growth, GONSIN now employs a dedicated R&D team with the most experienced engineers covering software, chip, network and communications technology background.  The company has maintained long term strategic partnerships with some well-known scientific research institutions in China.  Armed with the advanced R&D, manufacturing and testing facilities, outstanding industrial design capabilities and comprehensive post-sales service, GONSIN has evolved into the world's leading supplier of high quality digital conference equipment.
"Delivering Trust & Value"is GONSIN's corporate motto.   Based on mutual trust and shared interests, GONSIN will continue to work together with its clients and partners worldwide in order to actively confront new challenges of global competition and best meet growing needs of the conference industry.
Q1: How can Gonsin ensure product quality?
A1: Gonsin has strong R&D for product design & improve; Gonsin manufacturer department works strictly according to the technological process standards; Gonsin QC department perform strict quality test for the producing products; and before shipment, 2nd quality check will be made before delivery.
Q2: What's Gonsin products strength?
A2: Cost-effective, stable performace, excellent sound quality, easy setup, operate and maintain.
Q3: Which place will use Gonsin equipment?
A3: Gonsin models are widely equipped in international conferences, governments, parliaments, churches, education institutes, private corporate conference hall, in 130 countries.
Welcome to visit our company!